August in New Orleans means one thing and one thing only–COOLinary. Well, that's not exactly true. August also means Museum Month, Satchmo SummerFest, White Linen Night, and Red Dress Run… but for those of us with food constantly on the brain, COOLinary is a little bit like our Christmas morning (but make it a month).
For the uninitiated, COOLinary is that special time of year when some of the city's top restaurants offer their very best multi-course menus at set prices from $25 or less for lunch, and $45 or less for dinner and brunch. It's an excellent excuse to try a ton of different restaurants at a much more approachable price point. But with 80 restaurants (and counting), it can be a little intimidating to even narrow down where to begin. As always, we've got your back. We've narrowed things down into categories like top splurge-worthy spots doing COOLinary, best family-friendly picks, and places that are offering outdoor seating. You can browse the full list of participating restaurants (including menus) here.
Personally, I love the idea of Costera's family-style approach to COOLinary, with a four-person menu that includes some of my favorite of their dishes, like seafood paella, charred romaine, roasted mushrooms with warm egg yolk, and their Basque-style cheesecake. I'm similarly intrigued by Gabrielle's menu, which includes Nova Scotia Jambalaya (a twist on seafood jambalaya featuring lobster, smoked fish, and shrimp), and I'm also certainly never mad at anyone who wants to serve me Bourbon milk punch and cookies for dessert. Rounding out my dinner picks is Palm and Pine, where their shrimp and okra over curry leaf rice with peach and fenugreek butter and Arroz con Leche flan both caught my eye.
The addition of brunch to the COOLinary lineup a few years ago was another welcome one–after all, if you're anything like me, simply picking one brunch item and calling it a morning is nearly impossible. Maybe that's why I'm gravitating towards Commander's, where each course comes with *options*. Like, many options (between five and eight choices per course). If Commander's has been on your bucket list for a while, it's an opportune time to take advantage of the pricing. Or if you're looking for something a little more lowkey (but still very sleek), check out Copper Vine. I'll be ordering the deviled eggs topped with Cajun Caviar (a local, woman-owned caviar company) to start before diving into some cochon de lait benny, and a plate of beignets to finish it all off.   
While it may seem like there's no possible way that there could be any room left in a reasonable person's stomach after all this COOLinary talk, there are a few other notable newbies to the New Orleans restaurant scene that I'll definitely be dipping by this month. First off, two pop-up favorites that have opened brick-and-mortar locations: Flour Moon Bagels and Zee's Pizzeria. Flour Moon is great for both your traditional bagel and schmear, as well as some wildly photogenic and very tasty tartines, including the Harvest Moon (roasted carrot spread, tahini, cucumber, onion, olives, herbs, and duqqa) or the New Moon (scallion cream cheese, salmon roe, avocado, radish, and herbs). They also recently introduced a sandwich section to the menu, with everything from the Italian (with enough cured meats to make Tony Soprano proud), the Bluebird (smoked turkey, jalapeno cream cheese, blueberry jam, and hot banana peppers–my personal Achilles' heel), and the Pelican Peach (peaches with bacon, arugula, and chili crisp mayo). Zee's, on the other hand, offers both full pies and pizza by the slice and is a welcome addition to the Milan section of Uptown and the New Orleans pizza scene.
Other notable newcomers (or new locations) include Sukeban, The Chicory House, and J's Creole Wings. Sukeban is a Japanese-style izakaya with a super pared-down menu featuring high-quality handrolls and sake pairings at a 16-person bar along Oak Street. The Chicory House, on the other hand, is a daytime hangout that opens early with stellar coffee and breakfast treats and then transitions into a lunch spot with everything from chicken salad sandwiches (one of the best I've ever had) to a rotating list of fresh salads. The location in The Rink makes it an ideal stop when exploring the Garden District, but the fact that there's a bookstore upstairs lends itself even more to grabbing a new read and relaxing for a bit. Finally, J's Creole Wings has opened a third location along the busy Freret corridor. They're famous for their wings, but I have a deep appreciation for their side game–namely the fried okra section with four different options for seasoning, as well as their fry menu, which includes options like bacon ranch cheese fries, and garlic rosemary parm fries.

Where to Eat in New Orleans in August 2022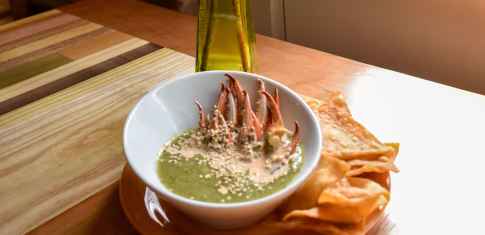 Where to Eat in New Orleans in August 2022